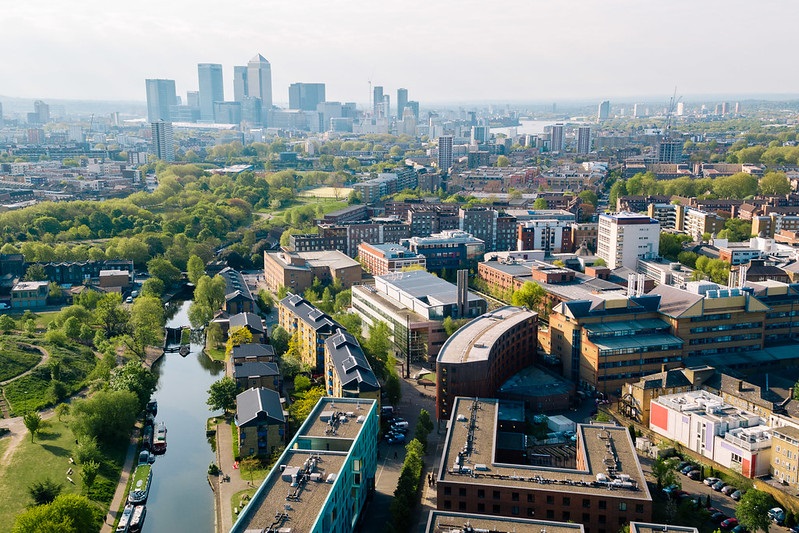 Queen Mary University of London (QMUL)
iGGi QMUL is located at the heart of East London on Queen Mary, University of London's Whitechapel campus.
iGGi QMUL is part of QMUL's School of Electronic Engineering and Computer Science. While QMUL-based iGGi PGRs can belong to more than one research group, they all by default belong to the Game AI Group (GAIG). The iGGi/GAIG office space is situated within the Digital Environment Research Institute (DERI) at Empire House, Whitechapel campus.
How to reach the iGGi Offices at Empire House, Whitechapel
The address for the iGGi office space is
2nd Floor
Empire House
DERI
67-75 New Road
London, Whitechapel
E1 1HH
Accesibility: Empire House access guide
Arriving by Tube
The Whitechapel campus is easily accessible via public transport, with the Whitechapel Underground station on London Underground's Elizabeth Line (purple on the Tube map), Hammersmith and City Line (pink on the Tube map), and District Line (green on the Tube map), just a seven minute walk away.
When you exit the station, turn right and walk along Whitechapel Road until the next larger junction. Turn left into New Road. Empire House will be located to your right.
Please use the Transport for London Journey Planner to help you plan your journey: https://tfl.gov.uk/plan-a-journey/ 
or their interactive maps showing Underground, Docklands Light Railway (DLR) and bus information
Arriving by Bus
The Whitechapel campus is based on Whitechapel Road, on the 25 and 205 bus routes, and Empire House is just off Whitechapel Road, on New Road.
Cycling/Walking
If you are travelling by bike or walking, please use the postcode above and the campus map to help you navigate to the venue. Bike storage facilities can be found in the Empire House Basement.
Arriving by car
For both our Mile End and Whitechapel campuses, car parking for visitors is not offered due to our central location. Local parking restrictions also apply on weekdays and weekends.We therefore strongly recommend you use one of the alternative transport methods listed above.
If you do need to drive to campus, QMUL open day published a list of offsite parking options within easy reach of Whitechapel, including park and ride options.
If you are a blue badge holder and require parking on site, please email opendays@qmul.ac.uk.